New Delhi: Amid protests in several parts of the country against the Agnipath scheme, the Union home ministry on Saturday announced 10% reservation for Agniveers in Central Armed Police Forces and Assam Rifles besides relaxing their upper age limit for recruitment in these forces.
The defence ministry came up with a similar quota for those completing the four-year stint in the armed forces, provided they meet the eligibility criteria. The 10% quota will cover the Coast Guard, defence civilian posts and the 16 defence PSUs, which include major ones like Hindustan Aeronautics and Bharat Electronics, as well as four shipyards and 41 ordnance factories. This reservation — primarily in Group C and D posts — will be in addition to the existing quota for ex-servicemen in these organisations.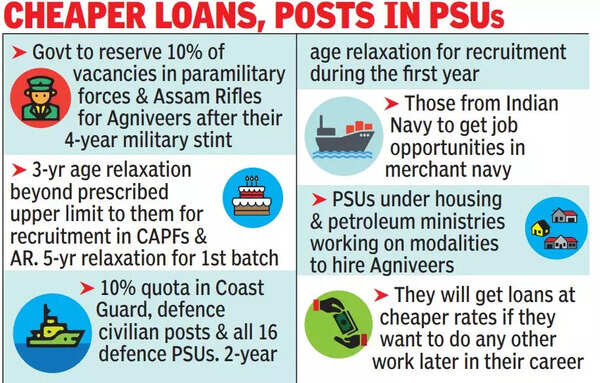 Saturday's decision on the 10% reservation for Agniveers in different defence arms was announced after defence minister Rajnath Singh held discussions with IAF chief Air Chief Marshal V R Chaudhari, Navy chief Admiral R Hari Kumar, Army vice chief Lt-General B S Raju (Gen Manoj Pande was outstation) and defence secretary Ajay Kumar on the overall situation.
The shipping ministry and Indian Navy also announced a policy for induction of Agniveers into the merchant navy. The ministry said six attractive service avenues will be available for smooth transition of Agniveers in various roles of the merchant navy after their stint with the Indian Navy.
According to the Directorate General of Shipping, the measures for Agniveers include transition from ratings in the Indian Navy to certified ratings in merchant navy, transition from electrical ratings in the Navy to certified electro technical ratings in merchant navy.
On the other hand, the home ministry decision on resrevation will also benefit paramilitary forces and the Assam Rifles by helping them fill up more than 73,000 vacancies they currently have between them. "The first batch of Agniveers can avail of 10% job quota in CAPFs and Assam Rifles till the age of 27 years," said a home ministry official.