Sports guest editors
Viswanathan Anand
and Anurag
Thakur
talk to TOI about the game-changing dynamics of the Chess
Olympiad
…
Viswanathan Anand has decided to don a new hat. The five-time world chess champion, who is still an active p layer at 52 and has defeated the world's top player,
Magnus Carlsen
, twice recently, will contest for the post of deputy president in the FIDE (world chess body) elections. He is also the face of the Chess Olympiad, which will be held in India for the very first time, in Chennai in July-August this year.
Anand, looking relaxed in a light summer coat, joined sports minister Anurag Thakur during an interaction with TOI in the Capital on Saturday. The two Guest Sports Editors talked about the way ahead for chess, plans to popularise the sport at the grassroots level and stage more international tournaments to give aspiring youngsters exposure to top-quality chess.
Excerpts from the interaction…
India is hosting such a big chess event for the first time since the Anand versus Carlsen battle in 2003. The government has planned many events around it. Your thoughts…
Anurag Thakur:
It's a big moment for India. I am sitting next to the five-time world chess champion who has made the country proud on several occasions. More than 190 countries will be participating in the event. I am sure that the famous Indian hospitality will spread the word that India doesn't only produce world class chess champions but also plays a great host. The Olympiad will help create awareness about the sport among the m asses. Khelo India chess could be the next big thing.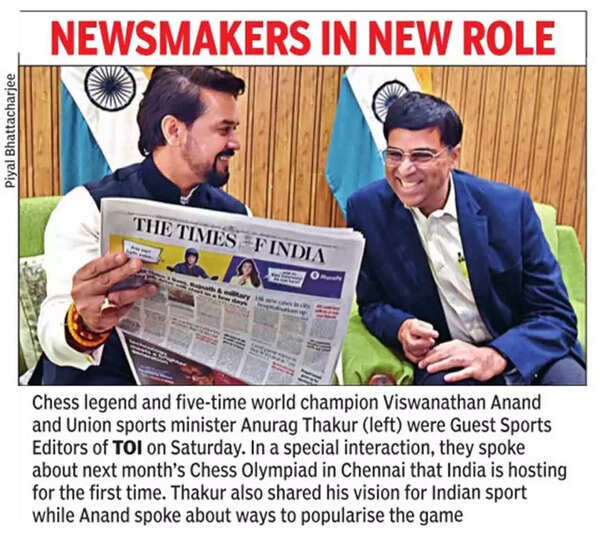 Talking about Khelo India, it's an ambitious project. How much has it managed to meet expectations as an enabler to success in the Olympic Games?
Thakur: We have already spent close to Rs 2600 crore in the last four years on Khelo India, whether it's the infrastructure for the game or other initiatives. In the recent edition of the Khelo India Youth Games (KIYG), 12 national records were broken and 11 of them were female athletes who broke them. It clearly shows that young talent is coming forward and are getting the opportunities and platform to excel. Khelo India chess will be one such campaign which will create awareness among the masses about the sport.
Chess has failed to make its way into the Olympics despite being one of the most played games across the world. If elected to the FIDE deputy president's post, would you be making a serious effort to get it included in the Games programme?
Viswanathan Anand: Chess has an application pending with the International Olympic Committee (IOC). The FIDE has continued to pursue it very seriously. These things take time and, of course, if our team wins (the elections) and I become the deputy president, I will continue to work on that policy. It's an excellent idea to have chess in the Olympics. But, at the same time, I am quite excited about the Olympiad happening in India.
A country must have the world's biggest sporting event happening regularly. It's one thing to show that you can do it once and we have organised the events before. But, it's important to keep hosting these events regularly to showcase your growth. The consequences for chess are even far greater. It's the first huge, mega chess event which is happening in India. And, somehow, I think the timing couldn't have been better.
Chess has had a revival in the last few decades and, recently, during the pandemic, the popularity has grown a lot. This is a fantastic opportunity using the Olympiad as an anchor to have nationwide movement and get more and more people engaged with the game. I hope we will see the benefits in years to come.
Thakur: I am glad that the FIDE has taken this call to start the Olympiad Torch Relay. The government pitched for this kind of event because, in a vast country like India where you have the representation from more than 190 countries, it's important to create awareness about the game. The Prime Minister Narendra Modi himself will be launching the torch relay on Sunday to take the movement to every state and city of the country.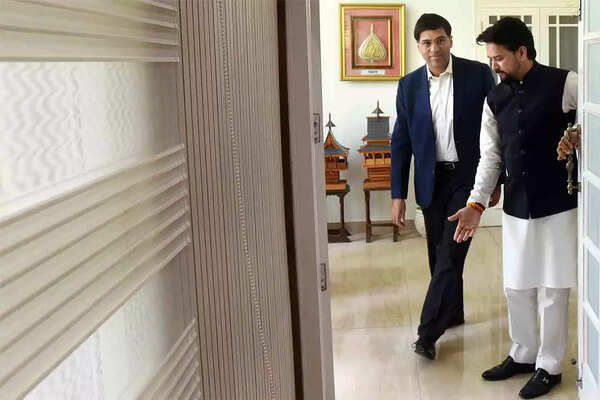 UNIQUE PERSPECTIVE: Anand (on the left; seen here with Thakur) hopes his experience as a player will aid his new role as chess administrator. (TOI Photo)
Do players take naturally to sports administration, or do they grow into the job? Is it better left to the experts who are experienced in administration?
Anand: The way I see it, I would join a team which has already been running world chess for the last four years. And, of course, all functions will be distributed among everyone. My focus would be to try and expand the game's reach by taking the advantage of new technologies and the possibilities that have opened up during the pandemic.
Chess has benefitted a lot from the Internet and now the game is growing on live coverage and all. I will try to focus on that part. It (my role) will also be slightly India-centric because I will try to expand its reach here. There will be a little bit of everything. I am a chess player, so I don't have much experience in this area.
But, at the same time, I bring a unique perspective with my candidature, a perspective of chess players and their experiences. So, from the professional side, I think I can also be, in a sense, a representative of the players and hear their concerns and address them. I don't see my job being very specialist. We will all work together as a team.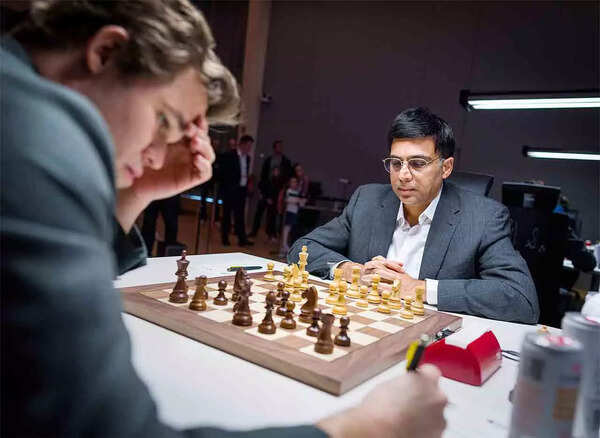 MASTERS OF THE GAME: Anand plays world No. 1 Magnus Carlsen in the fifth round of the Classical section in the Norway Chess tournament. (PTI Photo)
Along with big-budget events like World Championships and Olympiad, don't you think the real focus should be on giving high-level training to a large pool of upcoming players so that some of them graduate to ELO 2600 bracket without huge financial struggle?
Anand: I agree with the premise but it's not either-or. You need the big events to drive interest, for people to come and watch. Imagine, for instance at the Olympiad, one of the Indian teams wins the medal, or perhaps, multiple medals. Then imagine how many people would pick up the sport. So, there's a constant need to spread your efforts and get more people introduced to the game. At the same time, it's important to work with the youngsters.
I have been having this Westbridge Anand Chess Academy where I am working with top seven juniors in India, six boys and one girl. By regularly hosting such big tournaments in India, we will create an atmosphere where our players won't have to go abroad to play the best players. In fact, the best will come to India to play us.
Thakur: During the Olympiad, six players each from every state will be picked and they will get an opportunity to come there and interact with the international players, take chess lessons and learn from their experiences. We, in the government, will continue with the ongoing process of creating more sports academies and playing opportunities for our talented players. We are very much open about having chess included in the Khelo India programme.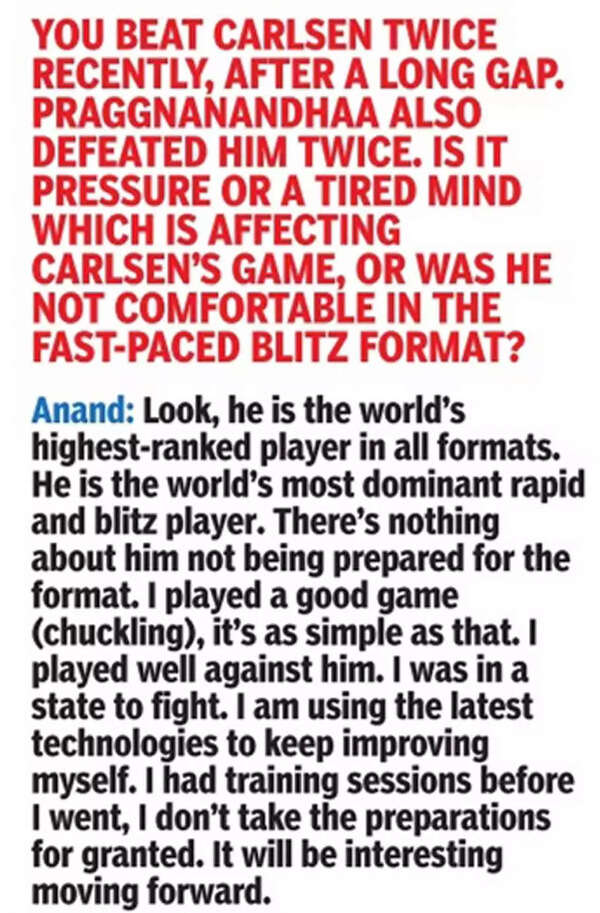 In recent years, chess enthusiast Youtubers have created a huge following for the game, especially during the pandemic. Samay Raina is one such person. How do you look at this trend?
Anand: I think any growth in the game is good, it's beyond dispute. Any growth will require you to change and adapt and be more flexible. As you can imagine, any audience which comes to watch chess on YouTube or some of the streaming services like Twitch, is different from the one which likes to visit a tournament, which wants different formats, different time controls and points scoring system.
But you can't deny the fact that the resources available, too, have increased. We should welcome the technology change and find a way to address each audience's needs specifically. It was also kind of unexpected that out of all the people, a comedian got this ball rolling in India. We are tapping an audience which perhaps found chess intimidating but they were interested at the same time.
They found it intimidating but when a comedian started making jokes every two sentences about the chess game, they were able to get in and go further. Again, like in advertising, you have to target a new audience. In chess too, this works perfectly.
How much has the use of Artificial Intelligence (AI) impacted chess and is it a positive change?
Anand: Talking about AI, it's a good thing. It has changed the dynamics and you can't fight it. But there's a specific reason why I find it good. It means that the cost and effort of training is continuously dropping, as the most sophisticated training methods become available to every computer and every mobile device. It becomes easier and easier to train and improve yourself.
But, equally, I want to emphasize that the real benefit is for countries which have no chess tradition or no existing chess work. These people are no longer cut off anymore. They used to be, when they needed to travel somewhere to meet someone to play chess. Now, they have it on their phones or computers.
This is what AI has done. It will only increase the reach of the game. Inevitably, the central world chess has to adapt to this new order, but then it's growing the game and that's good in itself. So the sport has to adapt and this is one of those things I'll try to focus on, if elected to the post. These are fantastic times for chess and we should grab the opportunities.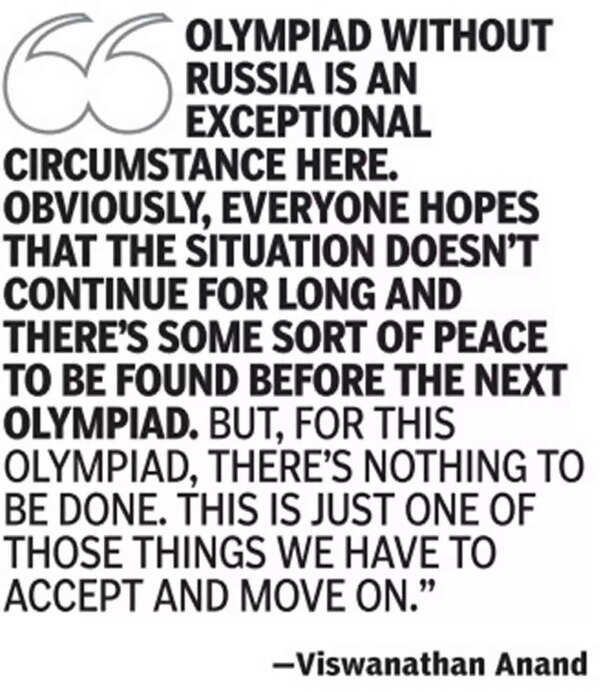 Does AI make too much of a difference now in how you prepare for a game? And what happens if a talented chess player lacks access to AI-based programmes?
Anand: AI is rewriting the game. I'll tell you why. We all grew up with legendary champions and some of the games that they had played. And this is the basis of chess learning. You study the legendary champions' game and try to build on that. Well, AI is showing that there are thousand other approaches to learn, which haven't been tried but which are also interesting. I am not going to study the new conclusions. I am only going to work on the old ones because you have to adapt to these new methods. As far access is concerned, there isn't a contradiction. Access is becoming cheaper and easier, it will mean that those who don't have access will now get it. I feel that the digital divide as such is a real problem, but we can operate at two levels. One is as the technology itself becomes easier to access. It's important for the federations world over to make an effort to make sure that everyone has access. If you go to a village and they don't have access, we will set it up…that should be the approach. And we have to speed it up, amplify it. It's wonderful that we are riding that wave. We don't have a choice. If we don't use AI, someone else will be better than us. So, we can't resist it.
The Olympiad without Russia is like having a football World Cup without Brazil. What's your take? Should countries at war stop participating in international tournaments?
Anand: Well, this is an exceptional circumstance here. Obviously, everyone hopes that the situation doesn't continue for long and there's some sort of peace to be found before the next Olympiad. But, for this Olympiad, there's nothing to be done. This is just one of those things we have to accept and move on. Even without Brazil, you can have a good World Cup. But, we should also appreciate the fact that India has been able to host the Olympiad in three months. It's a miracle.
How has the government been helping Anand diplomatically in his campaigning as FIDE deputy president?
Thakur: It's an honour for the country to have representatives from India at the top level who are able to win elections at the international federations and associations. It helps because they are much more aware of what is happening at the policy level and also they can bring international events to India. So, whenever and wherever required, anyone who will be approaching the government for any kind of elections, we will help from our side. We will look into it very seriously.