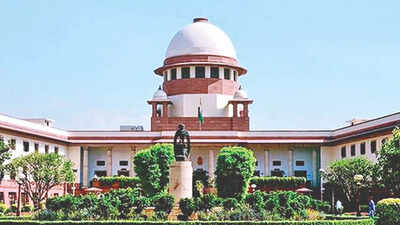 NEW DELHI: The Supreme Court on Monday refused to entertain eleventh hour pleas by former Maha Vikas Aghadi (MVA) ministers Anil Deshmukh and Nawab Malik, both in judicial custody on money laundering charges, to go out of jail and vote in the Maharashtra Legislative Council elections.
A vacation bench of Justices CT Ravikumar and Sudhanshu Dhulia agreed with solicitor general Tushar Mehta that Section 65(2) of the Representation of People Act bars anyone in prison from voting in any elections, except those kept behind bars under preventive detention.
The bench said, "The provision of the RP Act does not discriminate between ordinary incarcerated citizens and jailed representatives of people. Parliament in its wisdom has not carved out any exception to this complete bar."
But the court acceded to the request of senior advocate Meenakshi Arora, who appeared for both former ministers, and said the SC would consider whether some exception could be provided through judicial interpretation to permit jailed MLAs and MPs to vote in elections to Rajya Sabha and Legislative Councils.
Arora argued that disallowing the two sitting MLAs from exercising their constitutional right to vote would be akin to depriving the people of their constituency of expressing their say in the election of legislative council members. The bench said, "If that is the argument, then he should not be kept inside jail at all as the people of their constituencies are deprived of their voice on the floor of the assembly."
Hearing the urgent plea for nearly two hours from 2pm, when the voting was scheduled to end at 4 pm on Monday, Arora said the two are kept in custody deliberately for political reasons. Terming her arguments far-fetched, Mehta said Deshmukh was arrested in November last year and Malik in March this year, much prior to issuance of notification for Legislative Council elections.
The bench said it was rejecting the plea for interim relief (permission to go out of jail and vote). But it issued notice to the state and Union governments on the issue of permitting jailed MLAs and MPs to cast vote in Rajya Sabha and MLC elections.
FOLLOW US ON SOCIAL MEDIA
FacebookTwitterInstagramKOO APPYOUTUBE